Bonrix software systems products
Bonrix Track and Trace System
Good for Vehicle Tracking, Asset Tracking, Person/Buddy Tracking, Resource Tracking, Fleet Tracking.
GPS Tracking is a process which involves the Global Positioning System (GPS) satellites to locate a given object or person. With GPS tracking, logistic, car rental or local courier companies can tag the location of every vehicle in their fleet at any given time.

Bonrix Track and Trace System

 

provides live and historical position information on

 

Google Map

 

TM

 

,

 

Google Earth

 

TM

 

and also as various

 

MIS reports

 

and

 

alerts

 

. Using Google Earth, one can even overlay

 

custom map / scanned paper map

 

of any country/region to use with this tracking services.
Bonrix auto dialer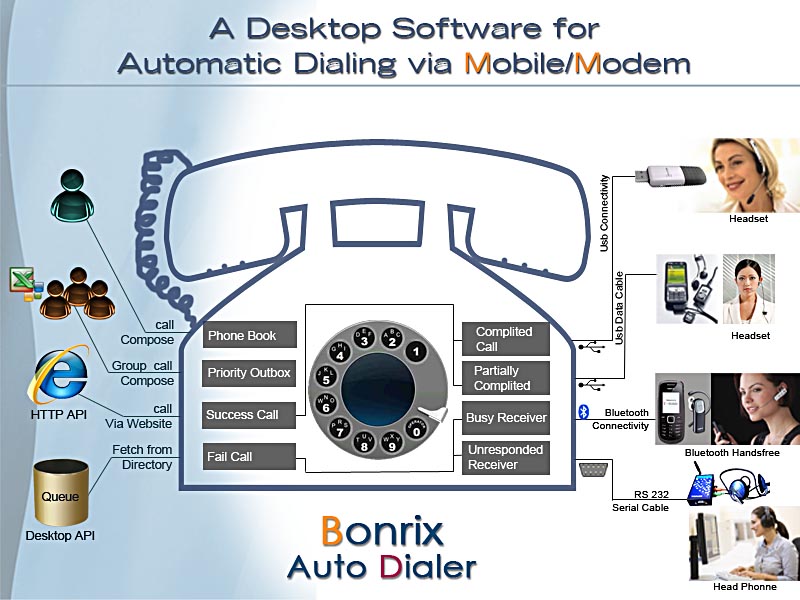 Bonrix Calls to Sugar CRM is lead capturing software for Android Tablet and Mobile phones.
Where each new call will be registered in Sugar CRM and then call recipient can fill necessary information and save to to right Campaign.
All call will be logged in default campaign and on request it can be moved to right campaign.
This one is handy client for capturing call records and leads in form of call.
there is also facility for searching leads accross campaign using different parameter.